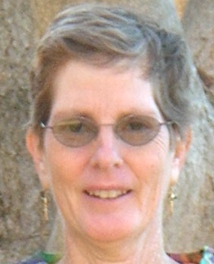 Philo, IL: Janet Marie Day Jackson, 52, of Philo, Illinois passed from this life on November 21, 2010 at Carle Foundation Hospital, Urbana after a brief struggle with liver cancer. A memorial visitation will be held on December 4, 2010 from 2:00 to 4:00 at the Morgan Memorial Home at 1304 Regency Drive West, Savoy, Illinois. Graveside services will be held at Mount Pulaski, Illinois at a later date.
Janet was born on June 3, 1958 in Springfield, Illinois, the second child of Keith Harris Day and Evelyn Hinds Day. She attended primary school and the first three years of high school in Springfield and then graduated from Pleasant Plains High School in 1976. She graduated from the University of Illinois in 1980 with a major in Horticulture. After graduation she was employed first by the University in the Departments of Plant Biology and Agronomy (now Crop Sciences) and later by the USDA at the Maize Genetics Cooperation Stock Center on campus as a maize geneticist, conducting field studies at the University's South Farm.
Janet met her husband of 16 years, Douglas K. Jackson, at Meadowbrook Park in Urbana on March 10, 1991 during a volunteer prairie burn project. They were married on November 12, 1994 at the First United Methodist Church in Urbana and lived in Philo since 1996. No children came from this union but Janet enjoyed and loved her nieces and nephews and their offspring.
Janet is survived by her husband, Doug. Also surviving are her father, Keith Day of Scaly Mountain, North Carolina, older brother, Lloyd Keith Day (Janifer) of Lincoln, Illinois, and younger sister, Jane Thornburg (Mark) of Dallas, North Carolina; eight nieces and nephews, Phyllis Kastle (Alan), Jessica Thornburg, Margaret Thornburg, Josh Day, Valerie Cooper (Alex), Jaime Snyder (Rob), Matt Stanfield, and Bryan Jackson. Also surviving are three grand-nephews, Eliot Kastle, Owen Cooper, and Chase Snyder. Janet was preceded in death by her mother, Evelyn.
Throughout her life, Janet had many and varied interests. She learned to sew and quilt from her mother and aunts. She actively pursued family genealogical information. She liked making pottery. Gardening was always a pleasure. She enjoyed attending all types of Illini sports events with her husband and friends. She had an interest in archaeology prior to meeting her husband and this increased after her marriage. Later in life she developed two other passions, growing orchids and knitting, and she became very accomplished in each. She developed a circle of great and dear friends with these various interest groups, neighbors, as well as those she worked with. She and her husband loved the outdoors and enjoyed traveling. Pets were always part of her life and her last two pets, Kiki and Joey are with her now.
In lieu of flowers, memorials may be made to the Mills Breast Cancer Institute; or Grand Prairie Friends; or the Illinois Association for Advancement of Archaeology Permanent Fund; or to the donor's choice.
<![if !supportEmptyParas]> <![endif]>